Robin van Persie rescued a point for Manchester United with a late equaliser against Chelsea and was then branded "stupid" by Louis van Gaal for taking his shirt off in celebration and drawing a booking from Phil Dowd, the referee.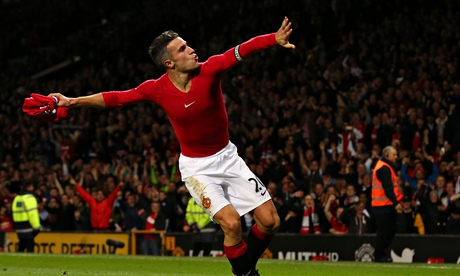 Chelsea were leading until the fourth minute of stoppage time through Didier Drogba's 53rd-minute opener – his first league goal since returning to the club. Then Ángel di María was fouled by Branislav Ivanovic in a challenge deemed bookable. As this was the defender's second yellow card he was sent off by Dowd, a decision that angered José Mourinho.
From the free-kick Van Persie slotted his third goal of the campaign and hurled his shirt in the air. Van Gaal said: "He did a stupid reaction after the goal. You can be excited but you don't have to pull your shirt off because then you have a yellow card. It is not so smart."
Van Gaal was insistent that despite requiring the late finish to secure the draw, United deserved to win. "Yes, you know that. I think José Mourinho knows that also," said the manager.
Although the result came against the leaders, Van Gaal does not believe it was his side's finest display. "I have said that to the boys. It was not our best performance and that is a pity because at this moment you have to show yourself against the better teams but in spite of that we have created a lot of chances – much more than Chelsea. They have created one chance in the first half and before the goal there was the [Eden] Hazard chance which David de Gea stopped fantastically.
"The corner kick [for Drogba's goal] was a lack of communication and that is why they scored. That is always the difference in such games."
Mourinho hailed a "fantastic" performance from Chelsea but pointed to Dowd's decision regarding Ivanovic's challenge on Di María. "I have no comments on the referee," the Portuguese said, before claiming that if he did offer his true feelings there would be disciplinary action against him from the Football Association.
"I prefer just to say my feeling is we had a good first half and a fantastic second half. You know I cannot speak. Some [managers] can and some don't and one of the ones who cannot speak is me because you know what happens to me when I do.
"I prefer not to speak about the second yellow card because if I do I have to start in the first half and go through many, many things that happened in the game. The penalty [not given] on Ivanovic, the accumulation of cards, the fouls he didn't give to us, the throw-ins right in front of me and the fourth official and the linesman that he gave in the other direction."
Chelsea lead Southampton by four points and Manchester City, the champions, by six. "Of course I prefer to be in front," Mourinho said. "We are four points in front so I can say next weekend it doesn't matter what the results, we will be on top of the league. We have a little space for our mistakes, or the referee's mistakes."
Van Gaal revealed that Phil Jones has shin splints. "West Bromwich Albion [was] his first game after long injury. I brought him back and he played 90 minutes. He had a sore shin – shin splints is very painful. He could not continue training on Saturday. I don't know how long it will take [before he recovers]."